Welcome to the home of

RockStars

!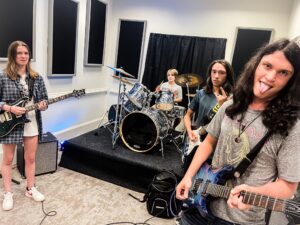 The Galaxy RockStars Program is the premier Rock Band program in the metro Atlanta area – run by instructors with decades of experience in the classroom, rehearsal space, and on tour!
We provide a professional-level rehearsal facility outfitted with a complete pro audio sound system and lights setup – including amps and a full drum set – so all you'll need to bring is your guitar, bass, or drumsticks.
Galaxy will do all the behind-the-scenes work and form the bands according to age, experience level, and musical styles & influences.
Together with your bandmates, you will choose your band name and the songs you want to play. Over the course of several weeks, you will meet with your band at your designated day and time for a weekly hour-long session to learn and rehearse your songs. Your band instructor will help each member learn their respective parts, offer performance tips, fill in for absent bandmates when needed, provide necessary practice materials, and mentor bands on direction and image development – all in preparation for showcasing your talents during live gigs at local music venues.
Bands are currently forming so fill out the
form
below and register!
The health and safety of our students and teachers is our top priority. Our socially-distant rehearsals, and our cleaning/sanitization protocols between bands follow COVID-19 protocols and guidelines established by the CDC.
Galaxy RockStars video clips:
Meet our Program Director: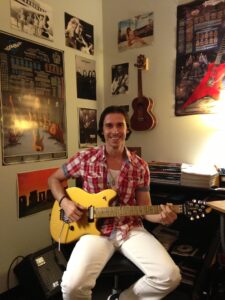 Hailing from Kentucky, Justin grew up in his father's hometown guitar store learning all about the music industry and picking the musical brains of local music heroes, learning to play guitar, bass, ukulele, and drums along the way. Upon graduating from the Atlanta Institute of Music in the summer of 2005, he was placed on a national tour in support of American Idol's Diana DeGarmo. After wrapping up touring later that year, he began teaching privately for several Atlanta area teaching studios, directing rock bands for summer camps and after-school programs, in addition to teaching clinics and masterclasses dealing with music theory and guitar ensembles. In between teaching, Justin has played guitar and bass for several Atlanta based artists as well as writing and performing with his own bands. He has also lent his talents to various Atlanta recording studios most notably doing sessions for Britney Spears and R&B singer, Mya. Currently, Justin is focusing on directing the Galaxy RockStars program and is accepting students to join bands as well as private instruction.
Fill out the form below to become a RockStar:
For more info, contact us anytime:
Studio Location:
430 Winkler Dr
Suite 200 (under the red awning!)
Alpharetta, GA 30004