Introducing the pulse of

Galaxy

!
At Galaxy, we take pride in our team! Each member – teachers and staff alike – are carefully selected to fulfill our common goals and mission to create lifetime lovers of music!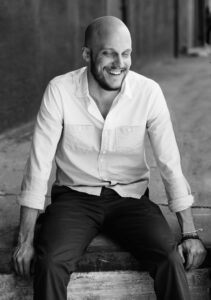 Galaxy owner, Russell McLaughlin, is a songwriter and multi-instrumentalist from Atlanta, GA. A graduate of Berklee College of Music in Boston, Russell is a full-blown devotee to the world of music – and explores as many avenues as the universe will permit; specializing in performance – both live, and in-studio. His auditory adventures have taken him across the southeast, to the west coast, to New England, and back down south again. Russell has worn many hats along the way, including those of teacher; ensemble, clinic, & workshop leader; composer and producer of music for animation, film, radio & other media; and performer in coffeehouses, clubs, & theaters across the country. 
In 2012, he founded The Instructors, an all-star group of Atlanta's most sought-after session musicians; whose style is an eclectic blend of reggae, funk, and jazz music. A veteran road-warrior, Russell has had the privilege of sharing the stage with the likes of The Wailers, The English Beat, Ludacris, and Sugar Ray – in addition to countless other bands and songwriters.
As a teacher, he creates a fun and relaxed atmosphere. He teaches private lessons and group classes, specializing in: Guitar, Piano, Bass, Drums & Percussion, Songwriting, Music Theory, Ear Training, Music Production, Composing, & Improvisation.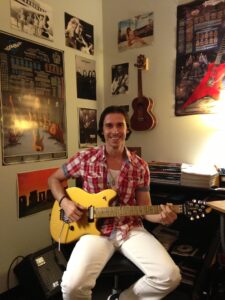 Hailing from Kentucky, Justin grew up in his father's hometown guitar store learning all about the music industry and picking the musical brains of local music heroes, learning to play guitar, bass, ukulele, and drums along the way. Upon graduating from the Atlanta Institute of Music in the summer of 2005, he was placed on a national tour in support of American Idol's Diana DeGarmo. After wrapping up touring later that year, he began teaching privately for several Atlanta area teaching studios, directing rock bands for summer camps and after-school programs, in addition to teaching clinics and masterclasses dealing with music theory and guitar ensembles. In between teaching, Justin has played guitar and bass for several Atlanta based artists as well as writing and performing with his own bands. He has also lent his talents to various Atlanta recording studios most notably doing sessions for Britney Spears and R&B singer, Mya. Currently, Justin is focusing on directing the Galaxy RockStars program and is accepting students to join bands as well as private instruction.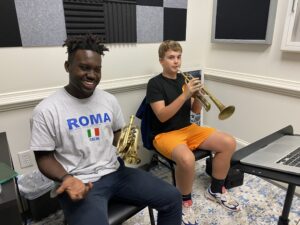 Ben Otieno began his solo trumpet debut at the age of seven years old and has since been well received as both a versatile performer and instructor. While attending the University of Georgia, Otieno studied trumpet performance under the instruction of the world's most notable orchestral trumpet player, Philip Smith. During his time at the University of Georgia, Ben studied and performed in master classes for artist such as Chris Gekker, Dr. Brandon Craswell, Judith Saxton and Michael Tiscione. 
Noteworthy performances include performing the prestigious North American Brass Band Association Championship in 2016 under the direction of Phillip Smith. Otieno has also shared the stage with commercial leading artists ranging from Freak Bass, Steve Molitz, Rossevelt Collier, Jason Haan, and DJ Logic. Mr. Otieno has also performed at Suwanee Hulaween Festival, Tower of Power 50th Anniversary Tour, Sweetwater 420 Festival 2017 and 2018, and Denver's Upslope Get Down Festival.
During the 2013-2014 season, Otieno was privileged to be announced winner of the Albert F. Ligotti Trumpet Award. In 2015, Otieno was accepted as a scholarship recipient to the Easter Music Festival where he performed as assistant principle under world-class conductor Gerard Schwartz. In 2016, Otieno advanced as a semifinalist at the National Trumpet Competition. 
In 2012 and 2014, Ben travelled to Kenya to lead a trumpet specific service-learning and teaching program through the Kenya Project. In 2016, Otieno traveled to Panama, via the David School of the Arts, to conduct trumpet master classes, teach private lessons, perform, and donate instruments to the community.
Ben Otieno has been professionally teaching trumpet in the Atlanta area since 2016 where he specializes in teaching trumpet to all age groups.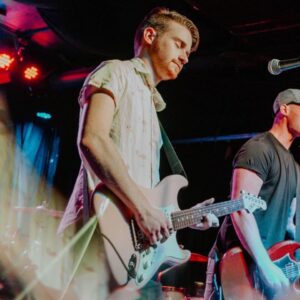 Dawson Tucker is a musician and producer based in Atlanta, GA. He found his love of music through the video game, Guitar Hero. At the age of 8, he opted for strings over buttons and has never looked back since! Shortly after moving from Maine to Atlanta, Dawson was presented with an opportunity that would shape him into the musician he is today: a local rock band program known as "Rock U!" gifted him with the knowledge and confidence to take to the stage and further hone his craft. This led him to meeting his first band mates in Valenti. At the age of 15, Dawson and his band recorded their first set of singles. This would be the spark that would light his passion for recording and producing in the years to come.
After graduating from high school. Dawson began to fully invest into a home studio and educate himself on all the ins-and-outs of the process. It wouldn't be long before he started to carve a name for himself in the Atlanta rock scene. Today, he aims to educate all who are curious about the intricacies of recording.
Dawson has produced for local Atlanta artists such as:
Fury in Few, Nocturnal Animals, Caterina, Reese Fleming, Silent, and his personal project, Creaphorium.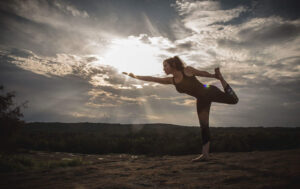 Kimberly Hamilton has been teaching group and private yoga classes to kids and families for several years. She enjoys creating playful sequences and yoga games so kids can have fun learning yoga!
Kimberly received her 200-hour teacher training certification from Peachtree Yoga where she learned the history of asana, pranayama, practical & subtle anatomy, and yoga philosophy. She completed her course as a nutrition specialist through ACE education. Kimberly has a BFA in theatre and Performance Studies from Kennesaw Sate University. For years, she has been teaching yoga and meditation for corporations such as Kaiser Permanente, Excellence in Exercise and various yoga studios in the Atlanta area. She devoted energy to these credentials because of a lifelong passion for helping people live their healthiest life.
At the age of 3, Kimberly began dance classes where she developed an appreciation for the mind/body connection early on in life. As a very young dancer, Kimberly learned how important proper nutrition is in order to perform optimally. One central aspect of yoga and meditation that has always appealed to her is breath control. She was born with severe asthma and throughout her childhood, was frequently hospitalized and had to use multiple breathing treatments daily. Given her history, she deeply appreciates how yoga is centered around our breath.
As a performing artist, an actor, singer and dancer, Kimberly deeply understand how the breath is a powerful tool we can use to reduce stress, calm our nervous system, focus the mind, and perform optimally. She loves teaching breath work and seeing her students experience the benefits of connecting breath to mindful movement.
"It elates me to help actors, musicians and all performing artists warm up before a performance or unwind afterwards. It brings me great joy when students express how much my teachings have enhanced their art and their daily life. I am excited to offer yoga and meditation classes at Galaxy to help performing artists excel at their craft and experience the healing power of yoga, meditation and sound therapy." – Kimberly Hamilton
Fill out the form below to register for lessons + classes:
For more info, contact us anytime:
Studio Location:
430 Winkler Dr
Suite 200 (under the red awning!)
Alpharetta, GA 30004